Wersi Analogue
organ Series
Wersi Galaxy, Saturn, Zenith, Classica, Concerto, Helios, Combo, Cosmos, Comet, Toccata, Entertainer, and Bass Synthesizer.
The analog Wersi organs can be viewed on various pages with photos and technical data / features.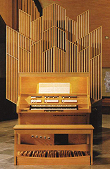 Wersi Toccata
The Wersi Toccata was the flagship of the analog classical church organs of Wersi, with two manuals with 61 keys and a 30-tone pedal and a large number of classical organ voices operated with traditional register buttons, the Toccata is a crown on the analog Wersi organ series. The Toccata was not available as a kit, unlike most other Wersi products.

Wersi Classica
The Wersi Classica W3SK was in fact a hybrid type of instrument, in the sense that it met the classical organ needs, but it was also equipped with popular organ functions 'entertainment functions' such as the draw bars, the Wersivoice and the piano group. unlike the entertainment organs, the Classica included a polyphonic pedal section and more extensive recording options.


Wersi Zenith W3S
The Wersi Zenith was one of Wersi's earlier, almost complete 2 manual organs. The later Concerto and Saturn models that followed reflected the functionality of the Zenith.


Wersi Galaxis W4SKT
The Wersi Galaxy was the largest of the Wersi analog organs.
The Wersi Galaxis was an all-rounder thanks to the three manuals with 61 keys, a 30-tone pedal and controlled by two separate tone generators and the enormous registration possibilities.


Wersi Saturn W3T
The Wersi Saturn W3T was reached out of Wersi towards the jazz organ. See e.g. the striking similarity with the Hammond X-66.


Wersi Concerto W3A
The Wersi organ Concerto was in fact a classic version of the Wersi Saturn model, but in a more conventional case design. As Wersi put it: "a timeless traditional styling". The cabinet included a built-in speaker system.


Wersi Helios W2S, W2TV
The Wersi Helios was possibly one of Wersi's most popular organs, with many functions available in the organ. There were 3 different Helios models.


Wersi Combo
The Wersi Combo is designed for portable use for e.g. a band or as a solo instrument.


Wersi Cosmos
The Wersi Cosmos was the smallest cabinet model organ of Wersi, but despite its small size, it had many more functions than the average organs of the same size.


Wersi Comet W10S, W10T
The Wersi Comet W10S, W10T were one of the last but not entirely analog organs of Wersi, but for a small part digital. These were therefore available in a cabinet model W10S or a portable cabinet W10T.


WERSI Bass Synthesizer AP-6
The Wersi Bass Synthesizer was a portable single size keyboard and monophonic instrument that possessed most of the options of a standard Wersi pedal section.


WERSI Entertainer
The Wersi Entertainer was a portable keyboard / organ, designed as a starting instrument for home use or when traveling.

Further Info:
You can address any problem regarding my WebSite,
contact me
and
"we also like to hear constructive criticism".
Home