My Wersi Verona GS500

The Upgrade to the HD Version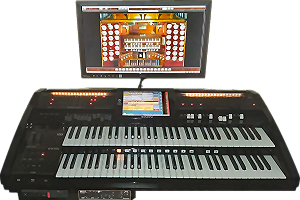 I have owned this Wersi organ, the Wersi Verona GS500 since September 2017 and I really like it. But still an Upgrade. After the Hardware upgrade in the Verona, we are now ready for an External upgrade, so outside the Verona. In the Verona there is nothing to upgrade anymore.
WERSI VERONA GS500 HD Version:
After a search on the world wide web I found the website of Jeff Ormerod WersiOrganShowcase.com he does with the OAS series what I did with my Wersi Wega CD600. I only did this upgrade in 2005. Of course I will never do away with this Wersi Wega, I think that there is only one of them in the world with this expansion. (if not, let me know).
The Upgrade:
I could not resist, after upgrading the Verona, among other things, replaced the hard disk for a 500 GB SDD disk, a new Blu-Ray burner, the memory from 2 Gig to 4 Gig, the processor replaced, an AMD Athlon II X2 250 for an AMD Phenom II X6 1090T and windows XP Service Pack 2 updated to Service pack 3. For a detailed description of these upgrades with photos see ''HERE''. After these Upgrades, I wanted to further expand the Wersi Verona, if possible. So this was the next step for my Wersi Verona OAS High Gloss Black Edition.
The Test Setup:
THE BEGINNING: I started with a test setup next to the organ, with a Desktop PC that I had with an ASUS motherboard and an Intel i7 processor and 6 GB memory. And a Steinberg UR242 audio midi interface and iiyama Touchscreen that I had previously purchased for this purpose. After the whole thing was connected to each other and had some software installed, the test set-up worked perfectly, now looking for a suitable MiniPC, because I need the Desktop PC for other purposes. Will it be a Mac or a Windows PC ??
the Continuation:
Well, it has become a Mini Windows 10 PC for my WERSI Verona OAS + HD System. A Lenovo ThinkCentre with an Intel i7 8th Gen. processor and 16 GB memory and a 500 GB SSD Disk. The reason for this decision is that I have a lot of PC Software and nothing for the Mac. Another reason that I have never actually worked with a Mac, with the PC as long as the Personal Computer exists. There is still some difference in operating and working with a Mac computer as with a Windows 10 PC
The upgrade looks like this:
At the rear, the Lenovo ThinkCentre is equipped with, 1x audio line out, 2x Display port 2.1, 1x HDMI out, 2x USB 3.0, 2x USB 2.0. The ThinkCentre can optionally be expanded with 16 GB of memory, so a total of 32 GB of memory is possible. Also a DVD / Blu-Ray Burner is still possible, etc. At the front we find a USB 3.0 and a USB C. 3.0 connection and also a microphone and a headphone connection. More than provided for the purpose for which it is used so. The Steinberg UR242 USB-MIDI Interface 24-bit / 192 kHz, is a very good external audio card in fact, with perfect specifications for this purpose. It is applied on the left-hand side next to the ThinkCentre under the lower manual.
Cabling for the Upgrade:
The ThinkCentre and the Steindberg UR242 are now placed together under the lower keyboard. The wiring is still there, but we bundle it into a nice cable harness so that little of the wiring will be visible. Maybe I can, preferably, place black cable ducts under the lower keyboard and make the entire cable harness disappear there.
Almost ready:
The Lenovo ThinkCentre and the Steinberg UR242 work perfectly together with the iiyama Prolite T2453 MTS Touchscreen and the Wersi Verona Organ. Now it is collecting and installing software and setting the midi of the Wersi Verona and the software.
Finally:
Hauptwerk was installed with some headaches, eventually fully installed on the Lenovo ThinkCentre. Magisterial sounds now come from the Wersi vocalis Speakers, i playing with that for a while for my pleasure. Next step is that I will install a DAW (Digital Audio Workstation) on the recommendation of a Facebook friend. He recommends me '' Reaper '', also TB Isone v3 from ToneBooster, seems to be perfect, then the Equalizer can also be right off the wall . Yes, we are still busy. So this is being continued.
The Organs that I once owned:
My first organ was a '' Solina A200 '', subsequently there were one ''Solina P240'' a ''Rhiha Saturn'' a GEM 600and from now on I know which organs I have had but no longer the order. At least a ''Godwin Transportable Orgel'' a ''Godwin SC 600 Orgel'' a ''Kawai DX600'' a ''Diamond 901 S'' a ''farfisa Louvre'' a ''Riha Orchestra'' a ''Technics SX E66'' a ''Yamaha Electone MC 600'' and the last organ I had purchased for the Wersi Verona GS500 was a ''Yamaha EL90'' which I sold to a Facebook friend.
And Wersi Organs / equipment that I now own:
Of course the Wersi Wega CD600 with an Upgrade to HD version. The Wersi Verona GS500 with the Upgrade to the HD version. A Wersi Entertainer Keyboard. A Wersi Elektra KF90. A Wersi Tapemaster, Mididisk recorder M64. 2 Wersi Vocalis Active Speaker columns for the Verona. And 2 WERSI TS 5001 Passive boxes for the Wersi Wega CD600. My only big wish yet, is to be able to buy a Helios with CX1 Rhythm, but unfortunately I no longer have space at home, a wand-closet has than to be removed but than my wife gets angry.
Do you have the idea to give a response, or do you have (constructive) criticism?
Then that is possible on Wersi Verona HD Serie Mini Forum